Ingatestone A12: Driver who killed passengers sentenced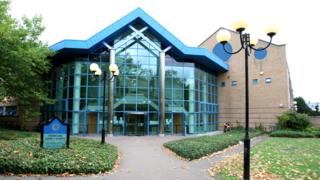 A driver who struck a tree off the A12 in Essex, killing his two passengers, has been given a suspended sentence.
Yousif Al-Mussawi was negotiating a bend at Ingatestone when he lost control of his BMW in November 2016, Basildon Crown Court heard.
Farhad-Zubair Maqbool and Yahya Sharif, both 25, of Acton, west London, died.
Al-Mussawi, of Southall, west London, admitted causing death by careless driving and was given an 18-month jail term, suspended for two years.
The 27-year-old was also given a three-year driving ban.
Essex Police said Al-Mussawi had been driving at an average speed of 90mph for five miles before the crash.
Mr Maqbool and Mr Sharif died at the scene of multiple injuries.
Al-Mussawi, of The Crescent, was taken to Addenbrooke's Hospital in Cambridge with a life-threatening head injury, police said.
He was in a coma for four weeks and has undergone several operations for life-changing injuries.
He was charged with two counts of causing death by dangerous driving but had his pleas for causing death by careless driving accepted by the Crown Prosecution Service.
Sgt Peter Swan said: "This was a tragic incident that claimed the lives of two people and changed the life of another.
"All three were close friends and this is a reminder that excess speed can change lives forever in a fraction of a second.
"I would like to pay tribute to the families of both Mr Maqbool and Mr Sharif, who have found it in their hearts to forgive Al-Mussawi, which was undoubtedly taken into consideration by the judge today.
"My thoughts are very much with them as they face the future without their loved ones."