Southend pilot: Hundreds mourn veteran with no family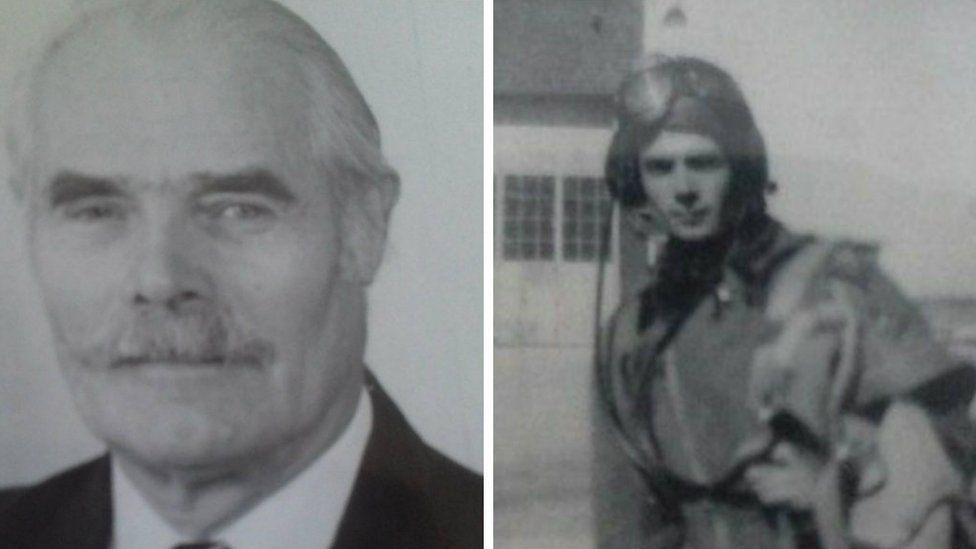 The funeral of a World War Two pilot who died without any known family was attended by about 200 people after a social media appeal.
Leonard King flew a Mosquito plane during the war. He died in a care home in Southend aged 94 on 11 March.
After a social media appeal, a bugler and two Royal British Legion standard-bearers led the hundreds of attendees at the funeral at Southend Crematorium.
Mourner Michelle Turner-Everett said it showed "community spirit at its best".
Mr King, who was known as Jason, was originally from London and trained in Canada before flying with No 23 squadron during World War Two.
Later in life he set up a company which invented a talking apparatus used by deep sea divers, his funeral was told.
He never married, and mourners were told he used to joke he had had a "lucky escape", but became known in later life as "Granddad" to his carer Karen Tuck.
Miss Turner-Everett, the SSAFA charity divisional secretary for the area, first heard of Mr King's funeral via social media and helped organise the bugler and standard-bearers.
She said: "Somebody tagged me in a post on Facebook and asked 'Michelle, can you help?'.
"Then I messaged Karen to see if there was anything we could do to help her."
Miss Turner-Everett said the funeral on Tuesday was "the biggest show of respect I've seen in a long time".
"He did have a very full life and was obviously a very clever man," she said.