One-legged Essex drug dealer jailed while on the run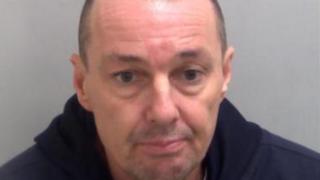 A one-legged drug smuggler is wanted after he was convicted and jailed in his absence over the attempted importation of amphetamines worth £8m.
Richard Wakeling, 51, fled to Belfast ahead of a 12-week trial with three other men at Chelmsford Crown Court.
As head of the gang, he has been jailed for 11 years for conspiring to import drugs, the National Crime Agency (NCA) said.
He has a prosthetic leg and needs regular medical treatment, it added.
It "strongly suspects" Wakeling, of Wharf Road in Brentwood, is overseas, possibly Thailand, were he has strong family links.
Plastic drums of liquefied amphetamine were discovered by Border Force in April 2016, which sparked the NCA investigation.
'Links to organised crime'
Lorry driver Lesley Muffett, 59, of Campbell Road in Witham, had attempted to board a train through the channel tunnel as he transported furniture from Italy, the NCA said.
Phone evidence showed that in Ternat, Belgium, he was directed by fellow lorry driver Stuart Davidson, 65, of Chesham Drive in Basildon, to collect the drugs.
Wakeling was in contact with drug suppliers and liaised with Davidson and Darren Keane, 34, of Kiln Drive in Milton Keynes, to arrange the journey.
NCA senior investigating officer Paul Green said: "These men were involved in a serious conspiracy to import a large quantity of dangerous drugs.
"We know they had links into other organised crime gangs in Europe and it is almost certain that this wasn't the first time they had done it.
"We are determined [Wakeling] will be returned to the UK to serve his sentence.
"Until we find him, he'll spend every day looking over his shoulder."
Keane was jailed for nine years, Davidson to eight years and Muffett for six years for conspiring to import drugs.