M25 Waltham Abbey fatal crash: Family 'devastated'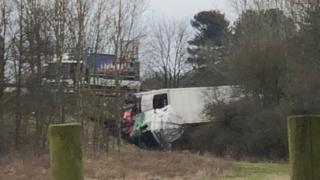 Relatives of two women killed in a crash on the M25 on Monday have said they are "devastated".
A 10-year-old girl was seriously injured in the crash at Waltham Abbey.
The two women have been named by family members as Sevim Üstün and Ayşe Üstün.
Essex Police arrested a 33-year-old man, from Bedworth in Warwickshire, on suspicion of causing death and serious injury by dangerous driving and driving while unfit through drink or drugs. He has been bailed until 12 April.
The collision involved a car and a lorry.
Orhan Gürbüz from Dunstable said members of his uncle's family were in the car.
He said his uncle's wife and mother were killed, while the injured girl was his uncle's daughter.
"It is a very devastating situation to face up to," Mr Gürbüz said.
"Everyone is supporting the family. In this bad situation all we can do is support my uncle."
Mr Gürbüz said the family do not know what exactly happened leading up to the crash and they were waiting for more information from police.