John Pordage death: Mum appeals to 'coward's' friends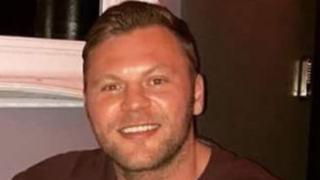 The mother of a murdered man has called for the friends of a wanted teenager to "do the decent thing" and hand him in.
John Pordage, 34, was shot dead outside a BP station in Chelmsford, in the early hours of 6 August 2017.
In an emotional appeal, Sue Wilson called on "those looking after" Bradley Blundell, 18, to "give him up".
A recent trial cleared a 16-year-old boy of Mr Pordage's murder, while Saul Stanley, 18, was jailed for five years in connection with his death.
Electrician Mr Pordage died of a single gunshot to the chest on the station forecourt on Baddow Road, at about 02:10 GMT.
During the trial at Chelmsford Crown Court, the boy claimed the fatal shot was fired by Mr Blundell.
Essex Police has issued a European arrest warrant for Mr Blundell, who it says "may utilise Ibiza as a place to hide".
"Bradley and those advising him need to consider whether he should live a clandestine life on the run, never knowing whether an arrest is imminent," said Det Ch Insp Martin Pasmore.
"He will, of course, have a fair trial."
'Full of anger'
Mrs Wilson said her son's last words to her were "love you".
She told BBC Essex that she attended every day of her son's murder trial because she "wanted them to see what they'd done".
"They laughed and sneered at me," she said. "It is an insult to John, to me, my family and his friends."
She described Mr Blundell as a "coward".
"I will say to the people looking after Blundell to do the decent thing and give him up.
"I never lost John," she said. "He was murdered and taken. I've not been allowed to grieve. I'm full of anger."