Chelmsford homeless man death: Night shelter beds 'were available'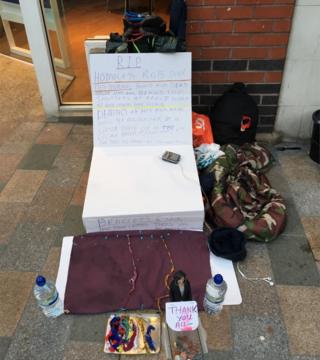 Beds were available at a homeless shelter on the night a rough sleeper died in Essex, a charity's director has said.
Rob O'Connor died in a shop doorway in Chelmsford on Friday, when overnight temperatures plummeted to -2C (28F).
Labour leader Jeremy Corbyn described the death as "very sad" in a tweet about the need to end rough sleeping.
Rob Saggs of homeless charity CHESS said its night shelter has 10 beds and is less than 70% full, on average.
"Some people make a choice not to come into the shelter where they are safe for the night," he said.
Mr O'Connor, who was originally from Canada, is understood to have recently undergone an operation for cancer, which required the removal of his voice box.
He was found dead behind the shutters of the old Argos building in Springfield Road. His death is being treated as unexplained.
Mr Saggs said Mr O'Connor had previously used its shelter and was offered help with winter provision.
"We deal with very challenging issues and safeguarding is a major priority, with people who are a risk to themselves and others," he said.
"We go out to rough sleepers, I would like to think they know what is expected of them and us.
"It sounds harsh, but often there is a choice that is being made."
Homeless man Daniel, from Bradford, told the BBC that some rough sleepers struggled to get places at night shelters due to strict rules around drink and drugs.
"We are functioning alcoholics - we drink just to keep warm.
"I would go in there to get some sleep and to not get hypothermia."
Chelmsford is forecast to experience an icy blast as low as -6C (21F) this week.
The city's MP, Vicky Ford, said Mr O'Connor's death was "especially sad" when a shelter was really nearby "and has beds most nights".
Chelmsford City Council is understood to be in discussion with CHESS about emergency provision during the cold spell.
It has been approached for comment.