Dogs kept in 'horrendous' conditions in Aveley and Barking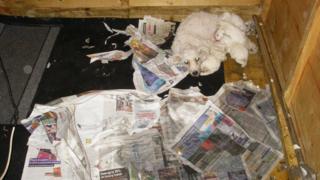 Two women have been handed suspended prison sentences for keeping dogs in "horrendous conditions".
Teresa Wade, 58, and Victoria Montgomery, 55, admitted animal welfare offences at Southend Magistrates' Court in Essex.
They admitted keeping 76 dogs and puppies in dirty and unsuitable conditions after an investigation into puppy farming by the RSPCA.
The RSPCA said the puppy farm "must have been hell" for the dogs.
Wade, of Ship Lane, Aveley, admitted failing to meet the needs of 59 dogs found at the Ship Lane travellers' site.
She was given a five-month jail sentence suspended for 11 months.
Montgomery, of Marne Road, Dagenham, admitted failing to look after seven dogs found at an address in Melford Avenue, Barking.
She was given a three-month prison sentence suspended for 11 months.
They were ordered to pay a £115 surcharge to fund victim services each plus £500 in costs.
The RSPCA said the rescued dogs included poodles, cocker spaniels and some of the popular designer crossbreed types such as cavachons, cockerpoos and golden doodles.
It said the dogs were seized and placed into the RSPCA's care and a number of pregnant dogs went on to have 27 puppies in the charity's centres.
Of the 103 dogs in total, four died, but courts ordered for the remaining 99 dogs to be rehomed ahead of the court hearing, the RSPCA said.
RSPCA inspector Carroll Lamport, who led the investigation, said the dogs were kept in "dark, damp pens covered in filth" and were "riddled with worms and fleas".
"They were being kept in horrendous conditions, it must have been hell for them," she added.