Chelmsford protest over Essex hospital merger plan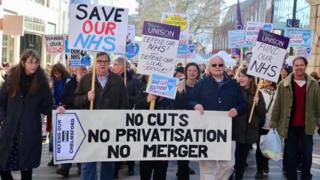 Campaigners have marched against plans to merge three Essex hospitals into one NHS trust.
Last month, Basildon, Southend and Broomfield hospitals approved the formal start of the process which could result in a single trust by next year.
A merger would make care "more reliable and safer for patients", a consultants' report has claimed.
Protestors in Chelmsford said they feared a reduction in services that would adversely affect patients.
The rally and march on Saturday by Defend our NHS also criticised cuts to the the trusts' budgets, and problems with getting to the new specialist emergency centre in Basildon.
Organiser Andy Abbott said: "Our NHS is already bleeding and on its knees."
"Even in their own words, and despite previous promises by the government to keep the NHS free from austerity, the proposed changes are driven by cuts," Mr Abbott added.
Labour and Liberal Democrat councillors and a retired GP were among the speakers at a rally on the High Street, which was followed by a march to Shire Hall.
Organisers said almost 200 people attended.
According to board papers, the three hospital trusts overspent by £98.6m in 2016-17, mostly on hospital costs.
It is claimed that if nothing is done to "change and adapt to growing demands", their combined overspend would be £500m by 2020-21.
"Change has to happen to maintain the safety and quality of care in the future, and in a way that will improve outcomes for patients and support our staff," a report to the board said.
If approved, the new trust would serve more than 1.1 million people across Essex, employing more than 14,000 staff.
The proposal is under consultation, with the potential of a single organisation in place by April next year.