Detective suing for knee injury seen in high heels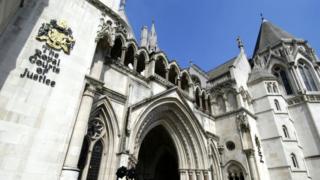 A detective suing a police force after injuring her knee at work was caught on surveillance crouching in high heels, a court has heard.
Rebecca Jenkins was a trainee detective at Grays police station in Essex in 2012 when she injured her knee during a prank that went wrong.
London Central County Court heard her phone had been hidden in a ceiling void by Det Insp Alan Blakesley.
Ms Jenkins was injured when she climbed on to her desk to retrieve it.
She is seeking tens of thousands of pounds in damages from Essex Police.
'Utterly humourless'
During closing arguments on Tuesday, Laura Johnson, for Essex Police, said the force in no way sought to justify Det Insp Blakesley's actions which, she said, were "inordinately foolish".
She said: "The decision to place the phone in the ceiling void was made in the moment. In his evidence he said he did it because of a desire to raise morale because of a feeling the mood was flat. "
However she said the police force, which sent both Insp Blakesley and Ms Jenkins on a health and safety course after the incident, was not responsible for the accident.
"It is not a responsibility of a supervisor to provide a laugh at work - many good supervisors are utterly humourless."
She described the accident an "absurd random" episode.
Shoe shopping
Andrew Roy, for Ms Jenkins, said Essex Police was responsible because ensuring good morale was part of ensuring staff were productive.
Ms Jenkins' initial claim against Essex Police was for £750,000 but this later reduced to £500,000. The court heard Ms Jenkins now accepts she wrongly stayed away from work from 2014 when she was well enough to attend.
The court heard how despite claiming to be unfit for duty as a result of issues stemming from her knee injury, Ms Jenkins was caught on camera in 2016 crouching down to look at shoes in a shop whilst out shopping in high heels.
Mr Roy said Ms Jenkins' knee problems could vary from day to day.
Her claim against the force includes £45,000 for a claimed loss in potential overtime earnings, £26,000 for an automatic car she bought because of her knee injury and thousands of pounds for treatment and therapy costs.
Ms Jenkins was dismissed from her job because of performance concerns.
Judge Nicholas Parfitt reserved judgement in the case which is expected to be returned next month.