Travellers sentenced for assaulting 'old biddy' blocking nature reserve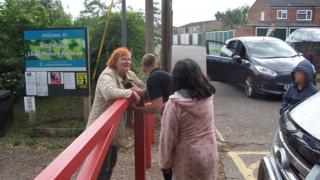 Two travellers have been sentenced for attacking a self-proclaimed "interfering old biddy" who stopped them driving into a nature reserve.
The pair knocked Sarah Freeman's false teeth out at the entrance to Hilly Fields, Colchester, in June 2017.
The 73-year-old had been protecting the gates by clinging on to the barrier before the men prised her fingers away.
The two men pleaded guilty to assault at Chelmsford Magistrates' Court and were both given community orders.
The court heard Mrs Freeman had been walking her dogs when about seven caravans arrived at the park.
She wrapped herself around the park gate and the post, and by the time the men prised her fingers away, a large crowd had gathered, and the group drove off.
Sam Loveridge, 29, from Chertsey Road in Woking, was given a 12-month community order, 210 hours unpaid work and told to pay £645 in compensation and court costs.
Jamie Crawt, 25, of Beaconsfield Road in Littlehampton, West Sussex, was given a six-month community order.