Harwich war story to be told with help from lottery grant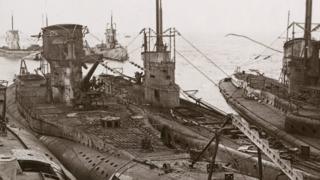 A project to mark a town's important role in both world wars has been given a grant of £319,000.
The Heritage Lottery Fund will help pay for a two-year series of events in Harwich, Essex, to include art, films, re-enactments and history-walks.
It will focus on the surrender of the German U-boat fleet in 1918 and the Kindertransport, when Jewish children came to the UK via the town from 1938.
Activities will be focussed on a three-week period in November 2018.
This will start on Armistice Day, 11 November, and will mark the centenary of the surrender of about 175 German U-boats on 21 November 1918.
The boats were escorted by British ships into the River Stour estuary.
Special events will also be held on 3 December, the 80th anniversary of the arrival of the first Kindertransport refugees.
'Heritage almost lost'
This followed the devastation of Kristallnacht, when the Nazis organised anti-Semitic attacks in Germany and Austria.
About 10,000 children were evacuated and most arrived in the UK by ferry in Harwich.
Children without pre-arranged foster families were sheltered at temporary camps such as Dovercourt.
The events are being organised by not-for-profit organisation New Heritage Solutions. Its application for lottery funding said it was important to mark the town's important roles in both wars.
It said: "Surprisingly, save for the odd newspaper cutting, a very short archive film clip, some blurry photographs and a few paragraphs in specialist military histories, the surrender of the German U-Boat fleet at Harwich in November 1918 has all but faded away.
"This is a heritage that has almost been lost from public view, yet its importance here in the East of England and much wider afield is immense."