John Pordage trial: Murder accused teen 'meant no harm'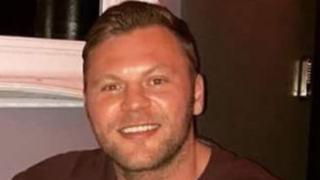 A 16-year-old boy accused of murder has told a jury he did not wish his alleged victim any harm and claimed he did not know his friend was armed.
Electrician John Pordage died in August after he was shot on the forecourt of a BP garage in Chelmsford.
Giving evidence at Chelmsford Crown Court, the teenager, who denies murder, spoke of a confrontation involving Mr Pordage and one of his friends.
He said he only followed his friend in order to protect him.
The teenager said the shot which killed Mr Pordage, 34, was fired by Bradley Blundell, 18, who is on the run from police.
The boy, who cannot be named for legal reasons, said Mr Blundell became "angry" by comments made by a friend of Mr Pordage, who was in a van on the forecourt.
The teenager, who had been in a car with four friends, told the jury he armed himself with a baton and followed Mr Blundell when he went to confront the man.
He told the jury he struck Mr Pordage on the arm with the baton when he grabbed Mr Blundell in a "bear hug"
Moments later, the court heard, there was a loud "bang".
Mr Pordage fell on top of Mr Blundell and when the two men got up again, there was a second shot, the teenager said.
"I heard another bang, that bang came from Brad. He had a blue bag with smoke coming out it and he was holding it out in front of him."
The teenager said he did not know Mr Blundell was armed with a gun.
The boy's co-defendant, Saul Stanley, 18 and of no fixed address, denies attempting to pervert the course of justice and five counts of possessing prohibited firearms and ammunition.
The trial continues.