Cannabis police find caiman during search of house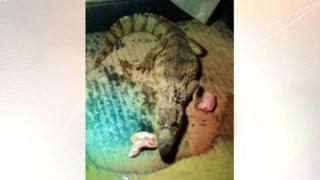 A 4ft-long spectacled caiman was found during a search of a house by police working on a drugs investigation.
The reptile, Caiman crocodilus, was discovered in a bedroom at the home in Westcliff in Essex on Wednesday, along with 16 live snakes, among them cobras, copperheads and pythons.
A scorpion was also found, along with seven dead snakes.
A 36-year-old man from Basildon has been arrested on suspicion of cannabis production and animal cruelty offences.
The animals are now in the care of the RSPCA.
Det Insp Steve Nelson from the Kent and Essex Serious Crime Directorate said: "We are working together with the charity as part of the investigation into how these wild animals came to be kept in such conditions.
"As officers we come across many different finds during our investigations and these are among the more unusual."
The man has been released on police bail until 13 February.
The search and arrest were in connection with a continuing investigation into a cannabis factory found at a Basildon industrial unit in November 2015.