Colchester Borough Council: £3m on housing for homeless proposal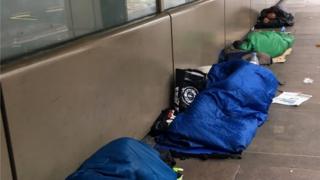 Almost £3m could be spent buying temporary accommodation for homeless people as part of council action to address the issue in Colchester.
As reported in the Colchester Gazette, the borough council will discuss the proposals to purchase up to 16 homes.
At the end of last year, 157 households were living in temporary accommodation.
The town's MP said there was in issue with some people having to be given accommodation in Ipswich due to a lack of suitable B&Bs in Colchester.
"That causes huge problems," said Conservative MP Will Quince.
"The biggest issue is you're taking people, in particular those with children, away from schools or where they work. It does cause huge disruption to their lives."
'National crisis'
Last year, a committee of MPs found there were some 78,000 families living in temporary accommodation across the country, calling homelessness "a national crisis".
Colchester Borough Council is run by a joint administration consisting of Liberal Democrat, Labour and Highwoods Group councillors.
Tina Bourne, Labour cabinet member for housing, said action needed to be taken.
"Local councils have a duty to house people who are not intentionally homeless, and we don't have enough stock now to be able to do that properly," she said.
The plans, which are yet to be approved by the full council, would see up to £1m of "affordable housing new homes bonus" income allocated to fund part of the purchase costs of 16 properties, up to a value of £2.9m, a Colchester Borough Council spokesman said.