HMP Chelmsford inmate died after smoking morphine patch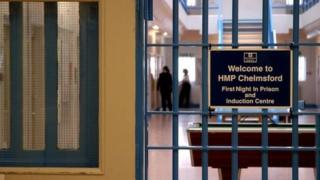 A convicted robber died after smoking a morphine patch in his cell, an inquest has heard.
Timothy Shaw, 34, of Basildon, was found collapsed in his cell at HMP Chelmsford on 28 February 2017.
He died two days later at Broomfield Hospital, an inquest held on Wednesday heard.
A post-mortem examination carried out on Mr Shaw showed he died of a brain injury caused by drug toxicity.
The inquest in Chelmsford heard Mr Shaw, who was serving a six-year prison sentence for robbery, had a history of drug abuse.
Giving evidence, Jennifer Davis, administrator in the prison's safer custody unit, said despite his history with drugs she did not believe "there was a need to alert the healthcare or suicide prevention teams in the prison".
David Efferton, supervising officer at Chelmsford prison, said Mr Shaw had been popular among his fellow inmates and said there had not been any concerns about his welfare.
Prison pharmacy technician, Gary Holdman, said medications in the prison were a highly traded currency but that morphine patches were quite uncommon.
He added the jail had very strict procedures when it came to keeping an audit of stock and who medicines were prescribed to.
An inmate in Mr Shaw's wing was receiving a prescription for morphine patches, Mr Holdman added, making it likely that Mr Shaw either got it from him or acquired it from outside the prison.
Prison officer Trevor Saville, who found Mr Shaw in his cell told the inquest that on 10 February they noticed Mr Shaw appeared to be under the influence of something as his speech was slurred.
He confirmed that on 19 February, Mr Shaw requested to be monitored against self-harming but the prison did not do this.
The inquest will continue on Thursday.