Harlow house fire deaths: Plea for 'closure' in 2012 case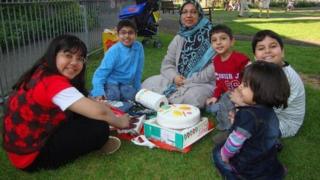 Friends of a doctor whose family died in an arson attack have voiced "frustration" that nobody has yet been caught.
Dr Sabah Usmani and children Hira, 12, Sohaib, 11, Muneeb, nine, Rayyan, six and three-year-old Maheen all died as a result of the fire in Harlow in 2012.
Only Dr Abdul Shakoor, who leapt from a first floor window, survived the fire.
Essex Police said it remained "committed as ever" to solving the case.
The Shakoor case has the largest victim tally of any of Essex Police's unsolved murder investigations.
An appeal in October marking the fifth anniversary of the deaths did not yield any new leads, police confirmed.
Zaheer Ahmed, a friend of Dr Shakoor, who went into the property with the grieving father after the fire, said what he saw will haunt him forever.
He said many Muslims in the town initially feared the fire was a targeted attack because of the family's faith.
"The whole community here came together," said Mr Ahmed. "Not just the Muslim community, the Jewish and the Christian communities too.
"Friendships were made, and those friendships have lasted."
Ajaib Hussain, chairman of the Harlow Islamic Centre at the time of the killings, said: "It is really frustrating, especially as there hasn't been any closure in five years.
"It is a long time and there hasn't been any further development. That is frustrating for the whole community.
"We do need some sort of closure."
Det Ch Insp Stephen Jennings said: "We are still desperate to find answers for Dr Shakoor, who lost his wife and children, and bring those responsible for this heinous crime to justice.
"Five years on from their deaths we remain as committed as ever to solving this murder."