Morning campers! The inside story of 80s sitcom Hi-de-Hi!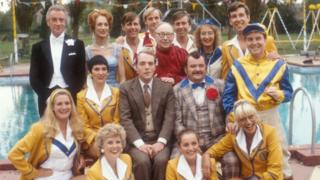 The antics of the employees of Maplins holiday camp entertained viewers for nearly a decade and made huge stars of the cast of Hi-de-Hi! Thirty years after the last episode was shown, on 30 January 1988, they have been sharing their memories with the BBC.
"All these years later, people say to me how wonderful it was and how we love the show," says Jeffrey Holland, who played the camp's comedian Spike Dixon.
"You can't get 19 or 20 million viewers now.
"I meet young actors now who know me from the 1980s, and they are often thrilled to meet me for that reason, and that's so gratifying."
Hi-de-Hi! was Holland's big break, with the role of Spike written with him in mind.
"It was the first thing I ever did that made my face known," the actor says.
"Whatever else I've done since, or will in the future, I'll always be that bloke from Hi-de-Hi! and I wouldn't want it any other way."
Set in the late 1950s and early 60s, Hi-de-Hi! followed the trials and tribulations of the camp's staff at a time when the popularity of domestic holidays was already in decline.
Package holidays were increasingly luring campers abroad - in the final episode of the sitcom many of the staff at Maplins lose their jobs.
In real life, the holiday camp where the outdoor scenes were filmed, Warner's in the small seaside town of Dovercourt in Essex, closed in the 1990s and has since been turned into a housing estate.
Series star Su Pollard, who played chalet maid Peggy Ollerenshaw, recalls how spending time on location brought the group together.
"There weren't just two or three of us in it - there was a good dozen, and that instigated the family thing," she says.
Hi-de-Hi! - which won a Bafta in 1984 for Best Comedy Series - was based on writer Jimmy Perry's experience as a Redcoat at Butlins in the 1950s.
(He and co-writer David Croft created some of Britain's best-known sitcoms, including Dad's Army and It Ain't Half Hot Mum, while Croft was also responsible for comedy classics such as Are You Being Served? and 'Allo 'Allo!)
Hi-de-Hi! became known for its long-running comedy themes, such as the smouldering passion of Gladys Pugh (Ruth Madoc) for the camp's uptight and rather innocent manager Jeffrey Fairbrother (Simon Cadell), and Peggy's dreams of becoming a Yellowcoat.
The popularity of the show led to a stage show, and at one stage there were even plans for a feature film.
The programme's rock and roll theme tune Holiday Rock, which was composed by Perry, was released as a single by star Paul Shane - who played host Ted Bovis - and reached the UK top 40.
The show was typically filmed in September and October, when the cast would take up residence at The Cliff Hotel in Dovercourt, near Harwich.
"We used to move in on the last weekend in September, and the weather was always stunning," recalls Holland.
"We used to call it Croft weather - he was legendary with his luck when it came to the weather. He must have had a hotline to the man upstairs."
However, any luck ran out during the filming of the long-running show's final series.
"When we did the last week of filming in October 1987, the Great Storm happened during the night before our last filming day," says 71-year-old Holland.
"We had one scene to shoot the following morning, which was to be shot around the pool.
"Fifty-eight poplar trees came down that night - the whole place was wrecked."
The actor recalls how one crew member had a lucky escape.
"When we filmed, lots of the electricians and crew stayed in chalets at the holiday camp.
"During the night, with the [wind] blowing, one of the sparks nipped out to use the loo and when he came back there was a tree clean through the middle of his chalet.
"If he'd been inside he would have been killed - the chalet came down like a matchbox."
The Cliff Hotel's former manager John Wade remembers the cast gathering in the lobby as the storm rattled the windows - and that one of them was particularly shaken.
"The night of the hurricane, my night porter knocked and said: 'Ruth Madoc's a bit worried as her room is moving'," he recalls.
"There were proper balconies outside and the support went through into the room, and it was moving outside in the wind.
"Of course it was moving the floor joists of the room, which gave the appearance of the whole room moving."
Those few weeks of each year when the cast and crew of Hi-De-Hi! would descend are remembered with fondness by residents.
"The number of times we sat in our back garden and [heard them] shout Hi-de-Hi! and Ho-de-Ho! in reply," recalls David Whittle, who lived 200 metres from the camp.
"And if they didn't get it right, they did it time and time again!"
You might also be interested in:
The BBC ghost spoof that duped a nation
Victoria Wood: In her own words
Ooh Betty! Frank's cliff stunt recalled
Tamsin Lord, whose family lived in nearby Wix, remembers an encounter with the props department.
"My dad was outside the house, polishing his green Morris Traveller," she says.
"The prop guy passed by and requested to hire the car to take Gladys to the farm. Dad cleaned and smartened up the car so it shone.
"Gladys was going to a pig farm. The car came back covered in pig poo. We laughed until snot poured out our noses. Dad saw the funny side... having been well paid for the loan of the car."
Pollard says the reason the show ended up being made where it was was down to being rejected by the business that was the inspiration for Hi-de-Hi!
"They made thousands, Warner's Camp, because Butlins wouldn't have us," she says.
"They were trying to get away from the Hi-de-Hi! holiday camp image. But Warner's loved us and got £4,000 a week, I think, and it was out of season so great for them."
For Pollard, who is now 68, those heady 1980s days spent working on one of the country's most popular TV shows are, unsurprisingly, recalled with great affection.
She describes how the cast would explore Harwich's culinary scene with Croft, who was something of a foodie - although the word was not in currency then - and, as his "dealer", supplying him with his sugar fix via his favourite Pontefract cakes.
There was also a tradition, Pollard says, for Croft to treat his stars to a "tumbler of champagne" to celebrate every 100th take they did.
"It all came off his budget, and they made sure we weren't filming later that day," she recalls. "Champagne on the boss's orders!"
Looking back, Pollard and Holland are in agreement about the show's legacy.
"I've heard people in other shows trying to distance themselves from them as times gone by," Pollard says.
"But I would never want to deny I was in Hi-de-Hi! as I'm proud to have the feel-good feelings of having been in it.
"I wasn't just another show; it was such a big success."
Holland agrees.
"I don't understand people who turn their back on what made them," he says.
"I'll always be proud to have been in something that brought so much happiness."