Katie Hopkins refused libel appeal bid over Jack Monroe tweets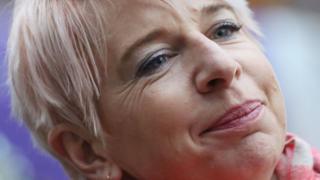 Broadcaster Katie Hopkins has been refused permission to have her libel fight heard at the Court of Appeal.
Ms Hopkins was successfully sued by food blogger and campaigner Jack Monroe in March last year following two tweets in which the broadcaster accused her of vandalising a war memorial.
At the time, Mr Justice Warby told Ms Hopkins an appeal would not have "a real prospect of success", in his view.
She had claimed he had made errors in the way he applied defamation law.
Mr Justice Warby, sitting at the High Court, said the tweets in May 2015 had caused "Ms Monroe real and substantial distress" and she was entitled to "fair and reasonable compensation".
Ms Hopkins was ordered to give her £24,000 in damages, as well as to pay £107,000 towards the campaigner's legal costs within 28 days - although the final costs bill is likely to be higher.
Following the original verdict, Ms Hopkins argued that libel and defamation laws should be applied differently to cases involving social media.
In an order dated 5 January, Lady Justice Sharp of the Court of Appeal said: "None of the grounds raised has a real prospect of success... the application for permission to appeal is therefore refused".
Ms Hopkins, who rose to prominence on BBC's The Apprentice, parted ways with Mail Online in November. She had worked as a columnist for two years.