Stamford Hospital's 57-year Christmas card mystery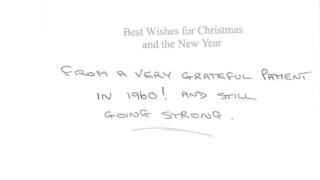 A "grateful" former patient has sent hospital staff an anonymous Christmas card every year since 1960.
Stamford Hospital in Lincolnshire said the card appeared "every year without fail" on the matron's desk, with the same message of thanks.
It is addressed to nursing staff at the now disused Exeter Ward and has a postal mark for the South East Anglia Mail Centre in Chelmsford, Essex.
Hospital matron Sue Brooks said it had been a "great mystery" for 57 years.
"It would be great to find who is still so grateful after all these years," she said.
She added staff were eager to find the mystery sender so "they too can say thank you and Merry Christmas".
The North West Anglia NHS Foundation Trust said the "once busy" Exeter Ward was an all-male ward, so staff know the patient is a male.
In the card, he said he was a "grateful" patient in 1960 and was "still going strong".
You might also like: