Design for planned nuclear power plant in Essex unveiled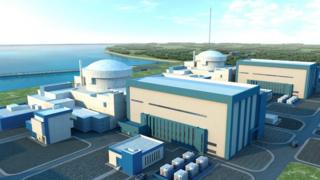 Designs for a new nuclear power station close to the site of a former plant in Essex have been revealed.
The reactor and buildings - designed by EDF and China General Nuclear (CGN) - could be built at Bradwell-on-Sea.
Planners are now set to consider environmental and safety issues, but any full approval for the site is expected to take at least four years.
It could power up to one million homes but campaigners oppose it on "health, environment and safety" grounds.
The design for the new "Bradwell B" reactor has passed the first step of a four-step process, and will be assessed by UK nuclear regulators.
But the Blackwater Against New Nuclear Group has warned about "the risks and dangers of radioactivity" posed by its construction and operation.
The EDF/CGN consortium is also planning to build the Hinkley Point C nuclear power plant in Somerset and Sizewell C reactor in Suffolk.
It has set up a website as part of the consultation process and has promised "reliable, low-carbon energy for the country as well as major industrial and economic benefits."
Humphrey Cadoux-Hudson, from EDF Energy, said: "Reaching the next phase of the design approvals process for a new nuclear power station at Bradwell is a significant step.
"We hope that local communities use the website we have launched to find out more about our early plans and feedback their comments."