Southend hospital set to pilot Airbnb-style scheme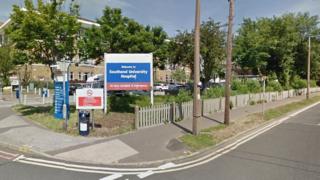 Airbnb-style accommodation may be used to free-up NHS hospital beds as part of a pilot scheme under consideration.
It is hoped the Essex trial will see around 30 patients waiting for discharge from hospital care stay with local residents who have a spare room.
Healthcare start-up firm CareRooms is recruiting "hosts" to take in people recuperating from a hospital stay.
Eligible patients may be recruited from Southend University Hospital NHS Foundation Trust.
But the hospital has said final approval for the pilot has not yet been given.
CareRooms said it will transform spare rooms and annexes with a private bathroom into "secure care spaces for patients who are waiting to be discharged".
Prospective hosts, who can earn up to £1,000 a month, need to pass security checks before they are approved for the scheme.
They would be required to heat up three microwave meals each day and supply drinks for patients and are offered "host protection" as well as a helpline and training.
The company's website said it aims to "provide patients with a practical alternative to hospitals and care homes to recuperate in".
The news comes amid the crisis of delayed discharges in hospitals.
Last week, Age UK warned that increasing numbers of elderly and frail patients are being "marooned" in hospital beds, despite being medically fit.
NHS figures show that last year, 2.2 million hospital "bed days" in England were lost due to delayed transfers of care.
The proposed trial will take place in Essex, it was first revealed by the Health Service Journal (HSJ).
CareRooms said the "micro pilot" would involve just five to 10 hosts over a three-month period.
The trial will not start until all parties are assured that the process is "safe or safer than standard practice", it said.
Yvonne Blücher, managing director of Southend University Hospital, said: "We would like to make it clear that only preliminary discussions have been held. Clearly if a decision to pilot such a proposal was made we would expect all safety, quality and regulatory arrangements to be satisfied."
---