Essex horticulturalist wins again with smashing pumpkin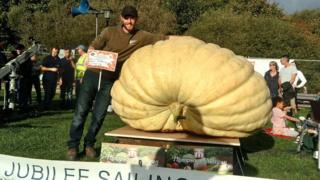 The man who last year grew the nation's heaviest pumpkin outdoors has beaten his own record.
Royal Horticultural Society expert Matthew Oliver has grown a pumpkin that tipped the scales at just under 1,500lb (680kg), to claim the coveted title for the second year running.
Mr Oliver won in 2016 with a pumpkin that weighed 1,333lb (605kg).
The Essex gardener, who works at RHS Hyde Hall, said winning was "fantastic" "given a summer of tricky weather".
He added that it was "frustrating to be just 1.6lb from the 1,500lb mark".
The seed used to grow the record-breaking pumpkin was supplied by a grower in Oregon, USA.
The pumpkin will go on display at Hyde Hall later this week and during school half-term holiday.
Last year's winner was sculpted into a boat.
Mr Oliver said this year's winner might go the same way.