Colchester flat fire pensioner killer has jail term cut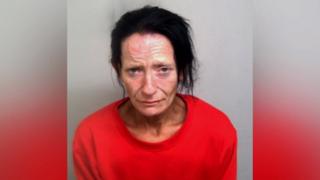 A drug addict who helped herself to a sizeable chunk of a pensioner's income before setting a fatal fire in his flat has had her jail term cut.
Lisa Connelly, 42, was high on drugs when she set fire to furniture in a bedroom at the house in Rochdale Way, Colchester.
She escaped the 2016 fire but 78-year-old Fred Payne was killed.
In March she was jailed for 12 years, but the Court of Appeal has cut her prison sentence to 10 years.
Connelly, 42, admitted manslaughter and arson charges.
At the Court of Appeal, Lord Justice Treacy said the fire led to tragedy and had caused "significant damage" to property.
Neighbours had made desperate attempts to reach and rescue Mr Payne but were beaten back by smoke and flames.
There was also evidence of extensive "exploitation" of Mr Payne before his death, the court heard.
"There was a pattern of disregard for Mr Payne, culminating in the start of the fire at these premises and leaving the deceased to his fate," the judge said.
But Lord Justice Treacy, sitting with Mr Justice Lavender and Judge Simon Bourne-Arron QC, concluded that 12 years was "excessive".