Stansted Airport confident despite Ryanair suspending routes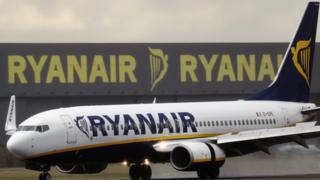 Stansted Airport has denied its growth rate will be affected by Ryanair's decision to cancel two business routes.
The budget airline has dropped services from Stansted to both Glasgow and Edinburgh over the winter months.
Brian Ross, from Stop Stansted Expansion, said cancelling the popular services will reduce the airport's growth rate by around half, to 3%.
But the airport says it expects to see continued growth for the foreseeable future, despite the cutbacks.
Travel expert Simon Calder said: "Cutting just a couple of routes from the destination boards at Stansted isn't numerically going to make a huge amount of difference to the airport's growth plans.
"But a lot of those people flying south from Edinburgh and Glasgow to Stansted were actually connecting on other Ryanair flights to go deeper into Europe.
"It might simply be that you lose two passengers flying down from Edinburgh and Glasgow and you actually lose more than that overall because there's fewer people flying onwards to Spain or Portugal.
"Stansted's problem for the last 25 years has been its over dependence on Ryanair. They will be doing everything they can to attract other airlines in.
"Hopefully they'll get a little more diversity which will help balance things out and mean that Stansted's future looks a little more sustainable."
Southend Airport has just announced it is launching up to 16 direct flights a week to Glasgow at the end of October.
Mr Calder said: "Southend cannot believe its luck. On 28 October, just as Ryanair are ending their flights from Stansted to Glasgow, up pops Flybe with a new link from Southend to Glasgow.
"It's the best possible beginning - a bit of a windfall for them."