Vicki Michelle joins fight to save Latchingdon dog rescue centre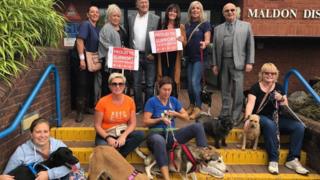 More than 100 protesters, including actress Vicki Michelle MBE, descended on council offices to save a dog centre from closure.
AA Dog Rescue in Latchingdon, Essex, was ordered by Chelmsford magistrates to close down on Tuesday due to noise at the 10-acre site.
More than 6,000 people have signed a petition to save the centre which was handed over to Maldon District Council.
Michelle, a patron of the centre, said it had been "an uphill struggle".
"I don't get it, it's their land, they're saving dogs' lives," said the former 'Allo 'Allo and Emmerdale star.
The council said it took enforcement action due to "unauthorised use" and "statutory nuisance" at the site.
Owners Karen James and Charlene Nathan set up AA Dog Rescue four-and-a-half years ago, and have rescued more than 3,500 dogs, they said.
They pleaded guilty to a breaching a noise abatement notice and an enforcement notice at Chelmsford Magistrates' Court.
The centre's planning permission is for equestrian and agricultural use, which does not permit dogs.
It has submitted planning permission to Maldon District Council for change of use and 47 kennels.
Ms Nathan said: "The council says there's a noise issue but we're quarter of a mile down a track which we own, in the middle of nowhere.
"There are 400 houses in the village and 244 have written letters of support. Essex has the highest number of dumped dogs and we take dogs in from all over the country, and abroad.
"It's not just the dogs, we help people with disabilities."
Maldon District Council said it had received the planning application but would not make any further comment in relation to the matter.