Man's face burned after liquid thrown in Colchester attack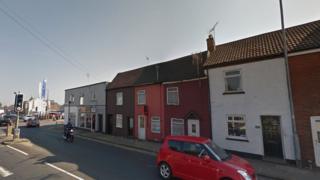 A man was beaten and his face burnt with an unidentified liquid in an attack, police have said.
It took place near shops on Magdalen Street in Colchester, Essex, at at about 19:15 BST on Wednesday.
The man was with a woman at the time and the pair were first verbally threatened. She was not physically assaulted.
Essex Police said they are looking for three black men and one white woman in connection with the attack.
The victim received medical treatment and was left with superficial injuries, including a burn to the face.
The three men are described as between 6ft 3in and 6ft 4in tall (1.9m).
The first is aged about 29, with plaited hair and a squint in one eye. The second is believed to be in his mid-20s, with a beard and moustache; the third is about 25 and of stocky build.
The woman, who spoke with an east London accent, is described as aged about 25, dark-haired and about 5ft tall (1.5m).