Tilbury Power Station chimneys demolished in seconds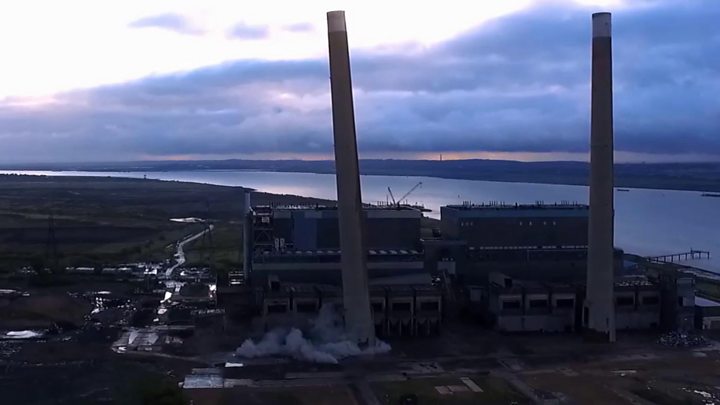 Two power station chimneys, which have dominated the skyline for almost 50 years, have been demolished in seconds.
The 170m (558ft) high chimneys, built in the late 1960s, were at Tilbury Power Station in Essex.
The power station closed in October 2013 and is earmarked for redevelopment.
Sue Lakin, who lives nearby, said: "I imagine some people will be glad to see them go, but I won't, they're iconic really."
The chair of Thurrock Historical Society, Susan Yates, said: "You could see them from miles away, everybody associates them with Tilbury.
"I can remember as a teenager coming across on the ferry from Gravesend and you could see them.
"When it's part of your life and suddenly it's going to go, everybody suddenly becomes very sentimental about it.
"You can't save everything, you've got to be reasonable, even as a local historian. You can't save every old house, every iconic building, you've got to draw the line somewhere."
Major blaze
Tilbury Power Station started as a coal-fired operation in 1969 but was converted to burn biomass fuel and wood materials in 2011.
In 2012 a major blaze , described by the fire service as "hugely challenging", broke out in an area containing about 4,000 tonnes of wood pellets.
It temporarily stopped power generation at the station, which supplied 1% of National Grid needs.
In 2013, it was revealed the power station was to close with the loss of 220 jobs, and part of the site was sold for redevelopment in early 2016.
The complete demolition of the site is expected towards the end of 2018.
RWE Generation, which ran the power station, is proposing to submit plans to develop Tilbury Energy Centre on the site.