Glenn Tamplin: Billericay Town boss faces driving ban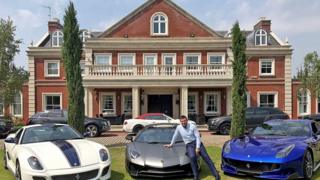 The flamboyant boss of a football club faces a possible driving ban after pleading guilty to speeding.
Glenn Tamplin, the owner-manager of Billericay Town, admitted breaking a 50mph limit, but was not required to appear before Chelmsford magistrates.
The 45 year old, of Abridge, Essex was driving a Bentley on the A282 Dartford crossing in April when a speed camera recorded him doing 66mph.
Tamplin who faces magistrates in December said a ban is possible.
He told the BBC he already has nine penalty points on his licence but said he hoped "the judge will be lenient... If not I'll have to get a driver".
He added: "Of course I regret breaking the limit but there's nothing I can do now. I don't want to break the speed limit in the first place but I can't guarantee it won't happen again.
"I haven't been done driving over 100mph, I haven't been done driving recklessly.
"Speed limits are there to be adhered to but it's not like I've gone and broke the limit by double the speed or an excess that would mean an immediate ban."
Mr Tamplin is also facing another speeding charge for an alleged offence in May when he was recorded driving at 44mph in a 30mph zone.
That case is due to be heard by Chelmsford magistrates in October.
Car enthusiast Tamplin is a multi-millionaire who made his fortune in steel and took over the non league club in December.
His unorthodox style of management has raised eyebrows, especially on social media where Tamplin often posts films of his team talks.
Tamplin motivates his players by getting them to sing R Kelly's "The World's Greatest" before matches.
He has invested more than £2m into Billericay since buying the Essex part-timers.
The club has a weekly wage bill of £20,000 after securing the services of several former Premier League players and Taplin says his goal is to get Billericay Town into the Football League in five years time.