Basildon woman, 87, hits burglars with husband's crutch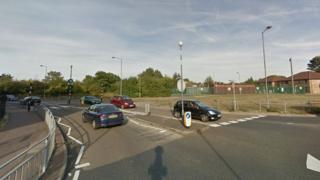 An 87-year-old woman who fought off armed robbers with her husband's crutch thought she was "going to die", a relative has said.
Burglars wielding pickaxes broke into victim's home, which she shares with her 97-year-old husband in Basildon, Essex, while they were watching TV.
The victim's niece said her aunt hit one suspect with the crutch before running into the road calling for help.
Police said the robbers fled with a gold bracelet and four necklaces.
The burglars threatened the couple with the weapons after smashing through the back door and searching their home in Timberlog Lane at 15:40 BST on Friday.
'Screaming for help'
Patricia Bell said her aunt told her: "I thought I was going to die or end up badly beaten.
"She called to my uncle to ring the police and while they were being distracted, she grabbed one of my uncle's crutches, hit one of them over the leg and ran out of the front door shouting and screaming for help."
She managed to flag down a passing ambulance and the police were alerted.
Ms Bell said her aunt, although "resilient", was now "too frightened to sleep".
She believed the pair were targeted because they were elderly.
Essex Police has said there were no descriptions of the suspects.