Clacton woman Marie Dent, 44, posed as teen to groom boy, 15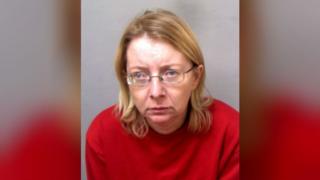 A 44-year-old woman who posed as a teenage girl to groom a boy for sex, has been jailed for three years.
Marie Dent set up a fake Facebook account and met her victim, 15, twice last year after the pair exchanged messages online.
They engaged in sexual activity in his bedroom, Chelmsford Crown Court heard.
Dent, of Clacton, Essex, was described as a "predator" by police. The married mother-of-two previously admitted three counts of sexual activity.
She had also pleaded guilty to a charge of possessing indecent images.
The court was told she first met the boy on 23 November last year, then again on 3 December.
Two days later Essex Police arrested her, after the boy's family contacted officers and social services.
Dent and the boy had argued about her exact age when they met, the court heard, but the boy said he had not been coerced.
'Solace in wrong place'
Judge Emma Peters said that whether he was coerced or not was "irrelevant".
Dent had been "looking to find solace in an entirely wrong place", she said.
In mitigation, Dent's solicitor Hannah Sutton said her client had suffered domestic abuse both as a child and an adult.
"Her behaviour was prompted by emotional needs and not sexual gratification," Ms Sutton said.
The victim's mother said Dent's actions had "changed the dynamic of the family".
Det Con Richard English, from Essex Police, said Dent was "a predator who used a false identity on social media to make friends with someone she knew was 15".
"She deceived the victim, claiming she was the same age and, on those lies, built a friendship which became sexual," he added.
Dent had admitted the four charges on 1 August.
As well as being jailed, she was placed indefinitely on the sex offenders register.