New pavilion to be designed for Southend Pier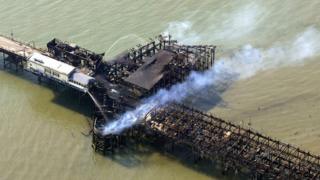 Architects have been commissioned to design a new pavilion for the longest pleasure pier in the world.
It will be located on the site of a former bowling alley on Southend Pier that was destroyed by fire in 1995.
Two previous pavilions on the 1.3 mile (2.1km) Grade II listed pier were both lost to fires.
Southend Borough Council has commissioned ADP Architects to design a new pavilion. The project is estimated to cost over £6m.
The council wants the pavilion to provide views in all directions across the Thames estuary and to complement the pier's heritage.
The original timber pier opened in 1830, with the iron version which is still standing opening in 1889. It has survived fires, boat crashes and two world wars.
A condition-survey of the pier last year confirmed the structure was safe to build on.
Councillor Ann Holland described the pier as "the jewel in Southend's crown", and "a symbol of immense pride among the town's 180,000 residents and six million annual visitors".
"Despite the litany of fires and crashes over its 187-year history, the council has remained committed to maintaining and restoring the pier," she said.
Once finished, the pavilion is likely to provide a year-round, all-weather facility, with retail and restaurant outlets and exhibition space.
---
Southend Pier
The pier has been a victim of disaster since it first opened in 1830.
1959: A fire destroyed the pier pavilion at the shore end, and this was replaced by a bowling alley which opened in 1962
July 1976: Fire destroyed most of the 1908 pier head
June 1986: Irreparable damage caused to the boathouse when MV Kingsabbey sliced through the pier head
June 1995: Bowling alley and other buildings destroyed by fire
February 2012: Fishing boat hits section of the pier