Man knocked over at Clacton zebra crossing recalls crash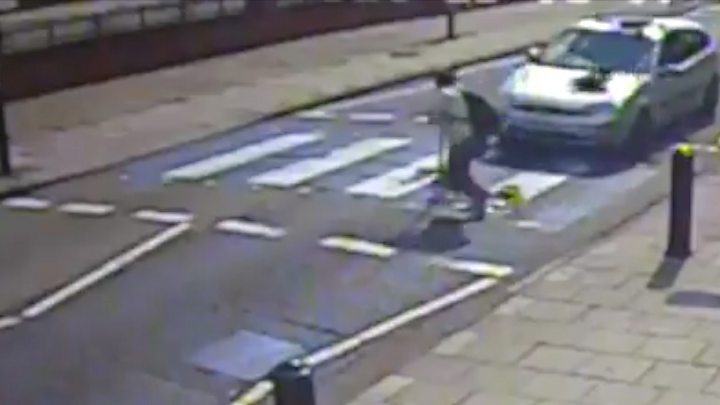 A young man described "seeing the shops upside down then hitting the road" after he was knocked down by a car on a zebra crossing.
Tyler St George, 22, was crossing Old Road, Clacton, Essex, at about 13:15 BST on Saturday when he was hit by a car which failed to stop.
"A car hit me and I just remember I went upside down and I went in the air," he said about the crash.
He was taken to Colchester Hospital with minor injuries.
Mr St George, who lives in Clacton and has autism, said he stopped at the zebra crossing, looked both ways and a car slowed down, so it looked safe to cross.
"Sometimes I'm not like other 22-year-olds, I'm more like a teenage boy, but I know the safe places to cross the road because I was taught to cross the road there," he said.
"When I crossed over it just hit me, and everything went upside down, and then I saw the concrete.
"I tried to get up but I had pains down my legs and I was really scared.
"I didn't do anything wrong. I was just crossing the road. I was happy that day like a normal boy."
His mother, Heather Hill, said her son was having problems going out alone since the crash.
"He's worried about crossing the road, worried about zebra crossings," she said.
CCTV footage has been released of the incident, in which a light green Ford Focus hit Mr St George on the crossing outside the Old Road Medical Centre.
The car failed to stop, and reversed away, driving off along St Andrews Road.
People from nearby shops and business came out to help, after they heard the noise of the impact.