Threatened Chelmsford Prison worker smuggled phones into jail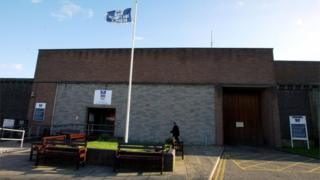 A prison officer who smuggled phones into jail after being told his baby would be attacked with acid has been given a suspended jail sentence.
Anthony Gillespie, 35, a PE instructor at Chelmsford Prison, admitted taking in eight phones, SIM cards and cables.
He told Chelmsford Crown Court an inmate threatened to attack his baby and partner if he refused to help.
Gillespie, who had stored the items in a shoe box, received a nine-month sentence, suspended for 18 months.
He had worked at the prison for 13 years but the court heard he was subjected to two weeks of intimidation by an inmate who said he knew where he lived and where his family went "recreationally".
When the banned items were found in a prison staff locker room, Gillespie admitted he had brought them in.
'Personal tragedy'
Defence solicitor Andrew Newton said 10 days after the box was found, Gillespie was approached in the street by a man holding a syringe which he thought was filled with acid.
Judge David Pugh said it was unlikely Gillespie would have been caught if he had not admitted the offence, he had received no financial reward and had been pressured into the actions.
However, the judge said Gillespie's role as a prison officer was an aggravating feature.
"For him and his family, this is something of a personal tragedy," he said.
"He was taken advantage of in a cynical and menacing way."
The court heard Gillespie resigned from the job after the incident.