Spoon-billed sandpiper helped by Wallasea Island and China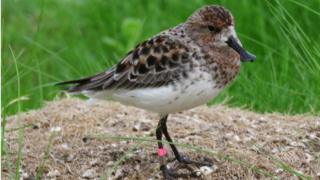 A delegation from China is visiting an Essex nature reserve to continue efforts to help a threatened bird.
The visit to RSPB Wallasea Island is being made as the reserve is helping to develop new wetland habitat in Shanghai for the spoon-billed sandpiper.
It is thought there may be fewer than 200 breeding pairs of the wading bird in the world.
The RSPB has been involved in an international conservation project to save the species.
The Shanghai Chongming Dongtan reserve is on the migratory route of the wading bird and is in a similar situation to Wallasea.
Both are situated in the mouth of a big estuary and face similar threats from rising sea levels.
During their four-day visit to the UK, the Chinese delegation will sign a joint Wetland Affiliation Agreement.
This will see them share expertise in habitat creation and the management of coastal sites - to benefit spoon-billed sandpipers and other species.
Jeff Kew, RSPB projects development manager, said: "The two coastal nature reserves face the same challenges even though they are over 5,000 miles apart.
"This visit is about building international cooperation for the conservation of migratory birds through sharing knowledge and experience."
---
The spoon-billed sandpiper
The tiny wading bird is about the size of a house sparrow
It has a uniquely shaped beak
It faces extinction within the next decade unless action is taken
Scientists believe the population falls by 26% each year
The birds migrate nearly 5,000 miles (8,000km) from their Siberian breeding grounds to the coasts of south east Asia
Source: RSPB
---