Braintree warehouse units 'completely destroyed' in fire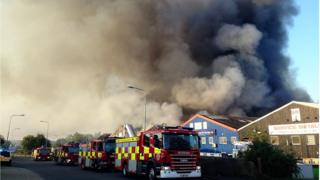 A fire has "completely destroyed" two units at a warehouse complex in Essex.
Nine crews of firefighters were involved in fighting the blaze which broke out at Springwood Drive in Braintree at 05:25 BST.
Essex Fire and Rescue Service said it had been "extremely hard to stop" flames from spreading to other units within the complex.
An investigation will be carried out in to the cause of the fire, a spokesman for the service said.
One of the destroyed units was used as a kitchen and furniture warehouse, the other was used to store vehicles.
Residents living nearby were advised to keep their windows and doors shut.
Incident Commander Mark Samuels said: "Firefighters have worked extremely hard to stop this fire from spreading to the other two businesses in this large industrial unit.
"Unfortunately two units have been completely destroyed but we were able to save the other two units."