St Osyth boat death: John Farmer died trying to rescue dog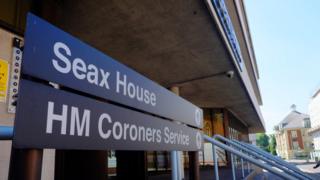 A father on a boating trip with his three children drowned after jumping in to the sea to try to rescue the family dog, an inquest has heard.
John Farmer, 59, was returning from Clacton on his 40ft (12m) cruiser when his terrier dog was knocked into the sea in April.
The inquest in Chelmsford heard how Mr Farmer, from St Osyth, emptied his pockets and jumped in after the dog.
Despite efforts to revive him Mr Farmer was pronounced dead in hospital.
Live: For more stories from Essex
The inquest was told neither Mr Farmer nor any of his children - aged 17, five and two - were wearing life jackets aboard the boat and the craft did not have ladders at the sides or rear to aid getting aboard.
After jumping into the sea off Lee-over-Sands, the hearing was told, Mr Farmer grabbed the dog and swam to the rear of his vessel.
His 17-year-old stepson threw a rope to him with a plastic buoy attached. Although the teenager was able to hold Mr Farmer in the water he did not have the strength to pull him to safety.
'Tremendous grief'
Coroner Eleanor McGann said: "It must have been very, very traumatic. He tried to do his very best."
Mr Farmer, who probably died shortly after he jumped into the water, was eventually pulled out by a police marine unit, which had been on exercise nearby.
Mr Farmer's mother Rebecca Farmer told how the family was still struggling to come to terms with his death.
"He would have been dead within about three minutes," she said.
"This has been a tremendous grief for his father and I, because we were very close to John, and it is something we just cannot accept, really."
The coroner concluded Mr Farmer died as a result of an accident.
It is understood his dog was rescued by a man on a sea scooter.