'Old biddy' in solo nature reserve traveller blockade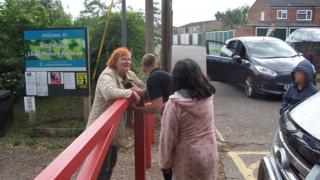 A self proclaimed "interfering old biddy" has told how her false teeth fell out as she prevented travellers getting into a nature spot.
Sarah Freeman, 73, was walking her dogs when she saw a convoy of vehicles near the entrance to Hilly Fields in Colchester.
As first reported in the Gazette, Ms Freeman clung on to the entrance barrier to prevent the group entering.
Eventually, the travellers left. Essex Police said it is investigating.
Describing what happened last Thursday, Ms Freeman said: "They were trying to take the padlocks off and I grabbed where one of the padlocks was and just held on to it and wrapped my arms around the post and held on.
"They found it difficult to get my hand out of the frame.
"There was a large tug of war and an awful lot of bad language. It was all pulling and grabbing and swearing. There were three men and a lady later.
"They picked me up and threw me away. They got so cross. My teeth fell out because I was yelling.
"They thought they could handle this old lady. I am an interfering old biddy.
"But this whole situation would not arise if councillors did their bit and gave them some pitches to stay on."
Mike Lilley, Colchester Council's portfolio holder for safer communities and licensing, said: "I have to admire Ms Freeman and I hope she is okay. She is perfectly right we do need sites for people to stay in and there are not enough of them.
"We will be talking to Essex County Council. It needs people to sit down and make sure proper sites are identified. The problem is, when sites are found those living nearby don't want them."
A spokesman for Essex Police said they attended "following reports that members of the travelling community were attempting to gain entry to Hillyfields.
"We also received reports of a disturbance, during which witnesses described seeing a woman being assaulted.
"Officers spoke to the woman at the time of the incident and we have spoken to her since. Enquiries are being progressed."
Billy Welch, a Traveller and Gypsy spokesman, said there was a desperate shortage of legal council pitches across the country.