Blind Date host Paul O'Grady in Southend outburst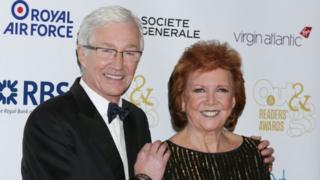 TV presenter Paul O'Grady has been invited on a tour of Southend-on-Sea after reportedly lambasting it during filming of the programme Blind Date.
The comedian used insulting language on the Channel 5 dating show, suggesting the Essex resort is filled with "single mothers", The Sun reported.
Southend Council and Visit Southend responded on Twitter, suggesting O'Grady "hasn't visited for a while".
"Who would help us give him a tour of the best of Southend?" they tweeted.
Warning: This report uses language some readers may find offensive
In response, the Gleneagles Guesthouse tweeted an offer of a free night in its "premier suite with unrivalled views of the estuary".
O'Grady was reported to have called Southend a "shit hole" on discovering a couple had won a date in the town.
In March Channel 5 announced his selection as the host of the updated programme.
He was a close friend of the late Cilla Black, who presented the show on ITV during its run from 1985 and 2003.
The BBC contacted O'Grady's manager who said Channel 5 would release a statement later.