UK Polish ambassador: Harlow 'open place for different nations'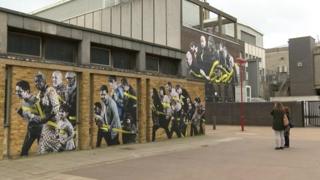 The Polish ambassador to the UK has described the town where a Polish man was killed six months ago as "an open place for different nations".
Arkadiusz Jozwik, 39, was attacked on 27 August in The Stow, Harlow, and later died in hospital.
Arkady Rzegocki visited the town as part of Essex Book Festival's Meet The Neighbours Polish Day.
A 15-year-old boy, who cannot be named because of his age, was charged with Mr Jozwik's manslaughter in December.
During his visit, Mr Rzegocki saw a mural featuring Harlow citizens, including its MP Conservative Robert Halfon.
The artwork, called "We're all the same boat" was created by Polish artist Jola Kudela for the book festival.
"The message is just relax guys and let's live together peacefully and quietly," she said.