Birthday cards pour in for Colchester motor neurone man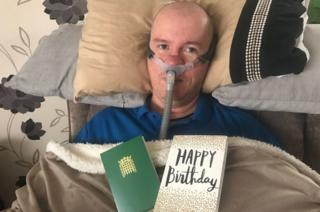 A man diagnosed with motor neurone disease 11 months ago has received hundreds of cards on what might be his last birthday.
Steve Hoggarth, 47, from Colchester, was diagnosed with the terminal muscle-wasting condition last March.
He appealed for cards as well as donations to an MND charity and hospice "to give something back while I can".
Cards arrived from around the world and he has so far raised three times his original £1,000 target.
The married father-of-two was an active maintenance manager for a construction company when he began to experience muscle spasms in his arm.
'I hate MND'
Within three months scans confirmed MND. By May 2016 he was unable to work and by August he was sleeping in a hospital bed on the ground floor of his house, and needed full-time care.
"I have MND. I hate MND! It's rubbish and has no cure," Mr Hoggarth wrote on Just Giving charity fundraising pages he has set up.
"On 4th February, I will be 47. I don't know how many more birthdays I will have..."
He asked people to send him birthday cards and make donations to the MND Association in Colchester and St Helena Hospice, both of which have helped him immensely, he said.
His younger brother Chris, said: "Everyone thinks of Prof Stephen Hawking and the ice bucket challenge when they hear about MND.
"Until we were touched directly by this, we thought the same."
---
What is motor neurone disease?
MND is a fatal, rapidly progressing disease that affects the brain and spinal cord
The disease attacks the nerves that control movement so muscles no longer work. MND does not usually affect the senses (sight, sound and feeling)
It affects up to 5,000 adults in the UK at any one time
It can leave people locked in a failing body, unable to move, talk and eventually breathe
MND is currently incurable and kills a third of people within a year, and more than half within two years of diagnosis
Source: MND Association
---
Mr Hoggarth has very little mobility but can still speak, "although that will be affected eventually", Chris said.
"None of us knows how long Steve has left, but he decided he wanted to give something back."
More than 1,30 cards have arrived from as far afield as South Africa, Australia, Canada, the US and Europe plus a number of handmade ones from school children.
"We've been overwhelmed by people's support," Chris said.