Greater Anglia: Thousands stranded in Witham to Shenfield train disruption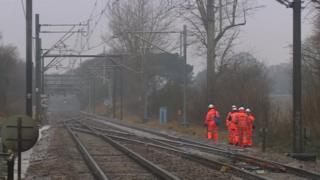 Thousands of commuters have been unable to travel to London from Essex, Norfolk and Suffolk after overhead line damage closed the line.
Greater Anglia services were stopped between Shenfield and Witham in Essex from Thursday night to 09:23 GMT.
Passengers vented their frustration on Twitter, with many asking why no replacement bus service was in place.
Colchester MP Will Quince was among them, asking why there had been no contingency plans for travellers.
Live: Follow updates on this story
"They knew at 10pm last night about Network Rail urgent repairs," he tweeted.
"Greater Anglia has serious questions to answer."
The line reopened at 09:23 GMT following repairs by Network Rail, but passengers were warned to expect further delays.
'Disgrace'
At 06:15 GMT, Greater Anglia asked passengers not to travel between Witham and Shenfield, saying disruption was expected until 14:00.
Hundreds of commuters vented their anger on Twitter, with many asking about the lack of rail replacement buses.
Gavin Searley tweeted: "Recommend people not to travel when paying £5k for the service? #Shenfield No business continuity plan? #disgrace", while Jordan Newell said people were being left "stranded".
Mr Quince told BBC Essex he was not going to make it into London in time for the start of the Homelessness Reduction Bill.
"I'm pretty cross about it. Where are the replacement bus services?" he asked.