Grays mechanics rescue cat stuck under van engine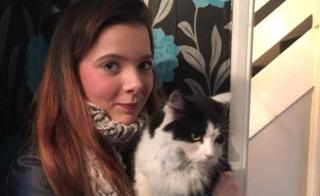 Mechanics rescued a cat which had got trapped under the engine of a van.
The van owner was about to set off from Grays, Essex, to Oxford when she heard a noise and discovered there was a cat trapped between the exhaust and engine.
She took it to the Advanced Service Centre in the town where workers took 15 minutes to "de-cat" the van.
The cat's owner Sharley Fry said she was "so happy" that her pet, called Daisy, is safe and that is she is recovering well at their home in Grays.
LIVE: The tale of a lucky cat with eight lives
The black and white cat had got stuck between pipes and the gear linkage, and had wrapped itself around the exhaust.
Mechanics put the van on a ramp while they removed brackets, the under tray and the exhaust system.
Terry Reynolds, one of the team, said: "My first thought was 'is it still alive?', but it was and it was good to see it come out."
During the rescue, the mechanics could be heard saying how "lucky" it was the van driver had heard the noise and that it was a "very lucky cat".
The entire rescue was streamed live by Jay Beisser and has been viewed more than 50,000 times.
Mr Beisser said: "I was getting ready to cancel the video if the cat was dead but as soon as we touched her we got a reaction.
"The video has been all over the world - you just put it on there for friends and family and now all these people have taken a liking to it."
Miss Fry lives next door to the van's owner and has owned Daisy for eight or nine years.
She said Daisy was back home and is "being spoilt" with chicken.