Gunman jailed for 'utter nightmare' mansion raid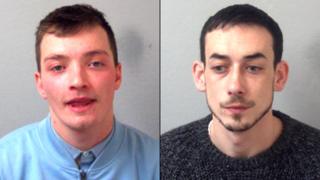 A burglar who shot a businessman in a raid described as "every householder's utter nightmare" has been jailed.
Timothy Mardon, 51, was left for dead after the attack at his mansion in Sible Hedingham, Essex, last February.
Charlie Simms, 23, was jailed for 20 years for attempted murder and aggravated burglary following a trial at Chelmsford Crown Court in December.
Christopher Bergin, 28, was jailed for 14 years for wounding with intent and aggravated burglary.
Follow the latest news from Essex
Mr Mardon, a millionaire who works in insurance and lives most of the year in Bermuda, had been mistaken for a drug dealer by the pair.
He had locked himself in his bedroom but was shot in the leg, through the door, with a sawn-off shotgun.
A recording of a 999 call he made was played in court in which a voice can be heard saying: "Where's the weed at or I will blow your face off."
In a victim impact statement Mr Mardon said a masked man held a gun to his head as he lay bleeding, threatened him and began counting down.
Mr Mardon, who was back in the UK for just one night, was alone in the Grade II-listed mansion when he was attacked.
The court heard he lost up to a fifth of his blood from his thigh injury. Judge David Turner QC said if a police officer had not applied a tourniquet to Mr Mardon's leg he "would have bled to death".
The judge told the men the recording of Mr Mardon's 34-minute call conveyed the "sheer horror" of "every householder's utter nightmare".
"The terror in his voice is palpable," he said.
He said that Simms was the masked gunman but added: "You were both no doubt at the bedroom door."
Simms, of North Road, Great Yeldham, was also convicted of possession of a firearm with intent to endanger life.
Bergin, of Hawkwood Road, Sible Hedingham, was also found guilty of wounding with intent, and possession of a firearm with intent to endanger life.
The men will both be on extended licence, for four years and two years respectively, following their release from prison.
In a statement, Mr Mardon said: "They will have time to reflect on what they have done and the harm they have caused to my family."
Det Ch Insp Leighton Hammett added that the Mardon family was "satisfied" with the sentences.