No proof found of Essex fire chief officer misconduct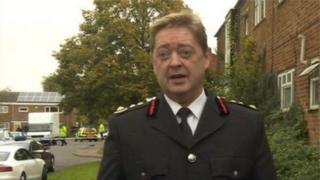 No evidence of misconduct has been found against a chief fire officer suspended on full pay for nearly two years, it has emerged.
David Johnson was suspended from his role as Essex's chief fire officer in April 2015.
A confidential Essex Fire Authority report obtained by the BBC shows Mr Johnson faces 10 allegations.
However, report author Naomi Ellenbogen QC found no evidence of "misconduct or gross misconduct".
A spokeswoman for Essex Fire Authority said legal representatives "on both sides" were "working hard to draw matters to a conclusion, which is in the interests of everyone concerned, including Essex taxpayers".
Live: For more on this and the latest Essex stories
A Freedom of Information request by BBC News revealed Essex County Fire and Rescue has so far paid out more than £600,000 in salary costs associated with Mr Johnson's suspension.
Craig Thomson of the Fire Officers Association said the 21-month suspension of a senior fire officer was "unprecedented".
The report revealed he was suspended following 11 allegations, one of which was dropped. The allegations include:
Mr Johnson stayed in luxury accommodation during the Fire Conference in Cardiff against the verbal instruction of the chairman of the fire authority
He failed to give adequate notice of an annual leave booking and was frequently absent from work
He inflamed a dispute with the Fire Brigades Union by issuing a press release ahead of strike action just before Christmas 2013.
The Fire Authority said the report was "not the only piece of evidence in the investigation".
"This investigation has taken longer than anyone would like to progress toward a solution but the Fire Authority does have a responsibility to ensure that the due process is followed when serious issues involving a statutory officer come to light and that proceedings are fair," the authority said.
"Mr Johnson's suspension is a neutral act, and so he is entitled to his salary during this period."
Mr Johnson is unable to comment on the case while suspended.