Shots fired in attempted Tesco raid in Clacton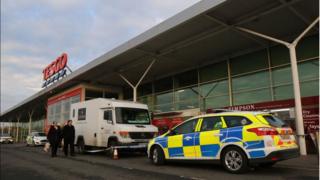 Armed robbers fired two shots during an attempted hold-up outside a supermarket.
Security guards were approached by two men outside Tesco on Brook Retail Park, London Road, Clacton at 11:40 GMT on Wednesday.
One of the robbers had a firearm and the guards were threatened and told to open the cash machines.
Essex Police said two shots were fired but nobody was injured and the would-be robbers fled empty-handed in a car.
LIVE: For more on this and other Essex stories
Essex Police said it did not believe there was "any threat posed to any members of the wider community".
A Tesco spokeswoman said: "We are supporting the police with their investigations in any way we can. Luckily no one was hurt in this incident."