Paralysed dog Crumble thrown from moving car dies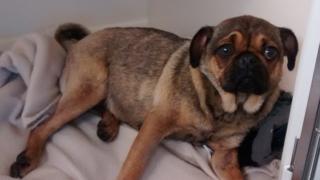 A dog found paralysed after it was thrown from the window of a moving car has had to be put down.
The female pug, was thrown from a car in Writtle, near Chelmsford, earlier this month.
The RSPCA said Crumble, as she was named by vets, had to be "put to sleep" after suffering kidney failure.
A spokeswoman for the charity said: "Our inspector and the staff at the practice are devastated."
The RSPCA said there were signs she had given birth to several litters and may have been discarded by a breeder.
It is appealing for anyone who may know where Crumble had come from or who may have seen her being thrown from the car to get in touch.