Second teen in Essex police pursuit crash dies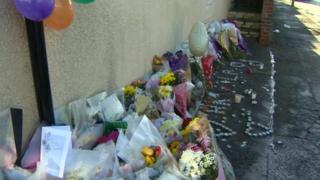 A second teenager has died after a Ford Escort pursued by police collided with a BMW and a garden wall in Essex.
The accident happened in the early hours of Tuesday, at a junction on Southsea Avenue in Leigh-on-Sea, after the car failed to stop for police.
One of the pair, understood to be back seat passengers, died at the scene. He has been named locally as Reigan Knight, aged 17.
The other boy, named as Liam Phillips, also 17, died in hospital on Wednesday.
Floral tributes and candles spelling out the boys' initials have been left at the scene.
More on this story and other Essex news
Reigan's friend Vinnie Havis, one of those to visit the scene, said: "I couldn't say a bad word about him... nicest boy you'll ever come across."
He was accompanied by his mother Lee Shuter, who said they were "really lovely, lovely kids" and called their deaths so soon after Christmas "tragic".
"For any mother to lose their child at this time of year… it's just awful," she said.
"My heart breaks for his family and his friends."
There has also been an outpouring on social media, with one Facebook user saying the victims would be "missed but never forgotten".
A beach vigil has been planned for Thursday.
Essex Police said the maroon Escort was being followed by a marked police car.
The case has been referred to the Independent Police Complaints Commission (IPCC).
A 16-year-old, from Great Wakering, has been arrested in connection with the crash.
A Shoebury 17-year-old arrested on suspicion of possession of drugs has been released on bail until 14 January.