Spider bite girl 'afraid to return home'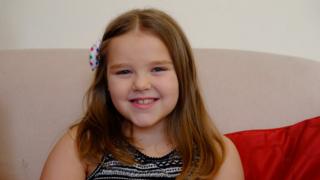 An eight-year-old girl says she is afraid to return home after being bitten by a spider and needing an operation to remove infected skin.
Abbie Kinnaird was taken to hospital a few days after being bitten at her home in Colchester, Essex.
Her mother Hayley said "loads" of spiders - including venomous false widows - were found at their flat, including in her daughter's bed.
"If I say we've got to back there, she'll freak out," Ms Kinnaird said.
"She doesn't want to go there at all."
Read more on this story and other Essex news
Abbie was bitten just before Halloween when leaving the bathroom and hadn't realised what had happened until the mark came up after, her mum said.
Staff at the walk-in centre where Ms Kinnaird took her daughter gave her antibiotics, but the wound worsened over the next few days and "started going black".
Abbie was taken to Broomfield Hospital in Chelmsford where she underwent surgery.
After researching the pictures online, Ms Kinnaird thought a brown recluse spider might have got its fangs into Abbie.
She subsequently searched their home and found more spiders. Pest controllers who were brought in later found venomous false widows.
"More had accumulated when we hadn't been there," she said.
"Abbie's fine as long as we don't go back to the flat or I talk to her about the flat too much."
The family has been staying with relatives while they search for a new home.
---
'Britain's most venomous spider'
False widows, or Steatoda nobilis, are cited as Britain's most venomous spider - but the species is not usually aggressive and being bitten is rare
The spiders are believed to have arrived in Britain in crates of fruit from the Canary Islands in the late 19th Century, with the first reported sighting in Torquay in 1879
They are found mainly around houses, though more rarely indoors, the Spider and Harvestman Recording Scheme says
Recent increases in population have been put down to climate change. Most are spotted during autumn when the spiders reach their maximum size
---