Holland FC remembers 'gentle giant' Jack Atkinson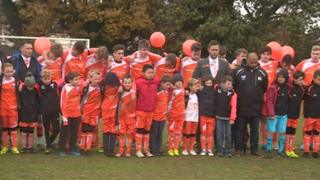 A one-minute's silence was held at a football match in memory of a player who died after going into cardiac arrest on the pitch.
Called a "gentle giant" by his club, Jack Atkinson, 18, collapsed while playing for Holland FC Under 18s in Clacton, Essex, on 13 November.
Paying tribute to Mr Atkinson, club chairman Mark Sorrell said a new stand would be named in his memory.
Balloons in the colour of the team's strip, orange, were also released.
The tribute - attended by members of the senior team, under 18 teams and junior teams - was held before Holland FC's Under 18s played Long Melford at 12:00 GMT
Mr Sorrell said: "Jack's death was a tragedy. It is just unbelievable. It is a tribute to him that all his friends and team-mates came today.
"We have a new stadium being built and we will name a stand after Jack."
Jack's mother, Clare Ling, said: "Jack was amazing. He was a very funny and lovely boy. I will always be able to come his stadium."
A Crowdfunder internet page has received £7,500 in donations in memory of Mr Atkinson.
The Tottenham Hotspur fan was also remembered at Saturday's Premier League game between Spurs and West Ham United when fans clapped in the 18th minute in tribute.