Dozens of call centre staff made redundant weeks before Christmas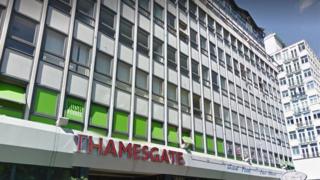 Call centre employees have spoken of their shock after suddenly being made redundant weeks before Christmas.
Fifty-seven staff members at Converso in Southend, Essex, were told the business was closing on Monday before being sent straight home.
"My partner and I were both made redundant, and we're having a baby soon," said manager Bradley Savage.
The Echo, which originally reported the story, said the closure was down to work being outsourced to India.
Administrators confirmed Converso had ceased trading as of Monday.
Read more on this story and other Essex news
Mr Savage, 31, of Shoebury, said staff had been told to stop making calls and then were informed the company was closing down.
"We were kicked out and they changed the door codes behind us. That's how quick it was - it was shocking," he said.
"I've been there for three years and my partner has been there for seven. But none of us had any inkling about this. We could have been looking for new jobs."
New opportunities
Following the announcement, Converso's founder and former owner Dino Forte put an announcement out on social media sites, inviting Converso employees to come to an open day at his new company Ventrica.
"We're trying to see if we can accommodate as many of those who were made redundant as possible," said Mr Forte, who sold Converso to an Indian conglomerate in 2007.
A spokeswoman for Cooper Young confirmed the company had been instructed to convene a meeting of creditors on 18 November with a view to placing it into liquidation.
"We're dealing with 57 employees who can make claims for unpaid wages. If they have worked there for two years or more, they can claim for redundancy," she added.